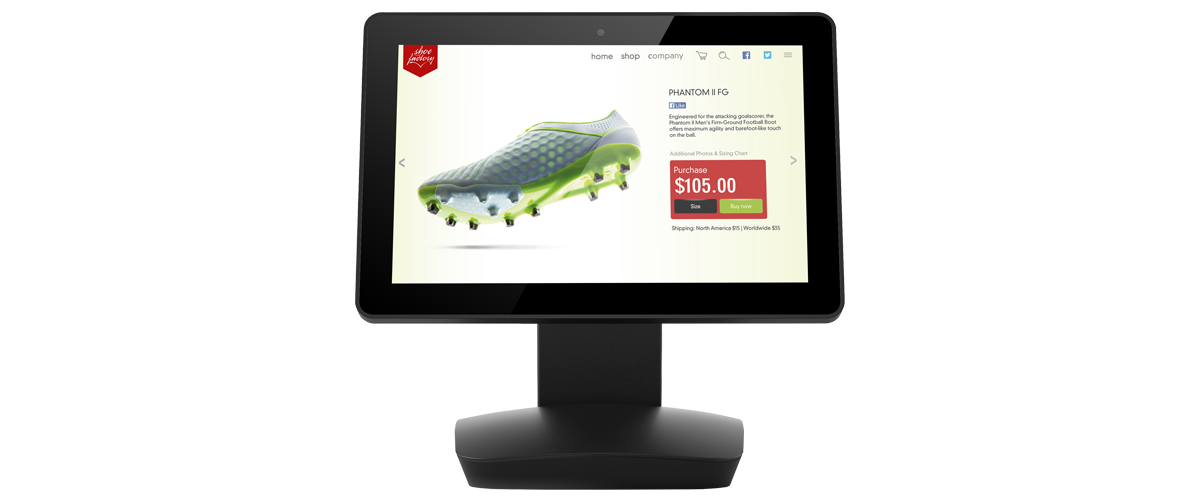 All-in-one integrated, portable, self-service kiosk.
The iDISPLAY™ Enterprise equips businesses and sales associates with a great tool for showing product information, service options, or event details to consumers when and where they need it. The iDISPLAY™ Enterprise is an integrated and portable self-service kiosk, digital concierge, and mobile POS (Point of Sale) all in one, providing you with a perfect, customizable business tool.
Smart Connection Gesture Technology
Busy retail and demanding customers have no time for lost or misplaced associate keys that inhibit a sale. With its Smart Connection & gesture technology, the iDISPLAY™ Enterprise tablet is easily released from its base with a simple screen gesture and security code (optional), no keys required.
NFC Card
In addition to the gesture release method, sales associates may use the NFC card to release the tablet from its base. You can assign and pair cards for multiple users to control tablet use and ensure it remains securely docked when not in use by assigned personnel.
Security
Designed to guard against theft, the iDISPLAY™ Enterprise Smart Connection, intelligent docking system provides security in addition to mobility in serving your customers. The iDISPLAY™ Enterprise tablet is released only when assigned cards and associate codes are used. A blue LED at the top of the counter stand illuminates and sounds when the correct code is entered and, only then, is the tablet released. The tablet is successfully re-docked by inserting the tablet into the connecting counter stand.
Portability
Extend customer reach to your sales associate with the iDISPLAY™ Enterprise portable tablet. The comfort grip handle permits tablet, associate and customer portability.
All-in-One-Kiosk
The iDISPLAY™ Enterprise is the new in-store mobile sales assistant, developed to increase customer engagement with your brand and convert consumers into shoppers. It's an integrated, portable self-service kiosk, digital concierge and mobile POS (Point of Sale), all in one.
Hands Free
Tablet handle serves as a kickstand to facilitate keyboard use.
Pulse Management
Pulse Management provides the tablet administrator, device manager and CMS (content management system) that creates new in-store opportunities for customers like endless aisle experiences, product customization & inventory availability and current promotions. Together, the iDISPLAY™ Enterprise and Pulse Management can create a consistent, branded, controlled user experience across thousands of devices from a single dashboard, remotely manage all device and app settings, measure customer interactions and program effectiveness.
Pulse Device Manager
The Pulse Device Manager is a cloud based software responsible for managing iDISPLAY™ tablet utilization and any content that a brand or retailer might run on the tablet. It manages device operations and utilization from a single dashboard, serves issue notifications upon detection of problems, ensures device security and user compliance and captures as well as analyzes digital interactions. Being able to capture, measure and analyze the number of user interactions, duration of sessions, and information accessed provides invaluable insights into marketing campaign as well as sales force effectiveness.
Business Applications
Increase in-store activation through extended business applications with peripherals for target marketing (couponing/promotions) and mobile POS.