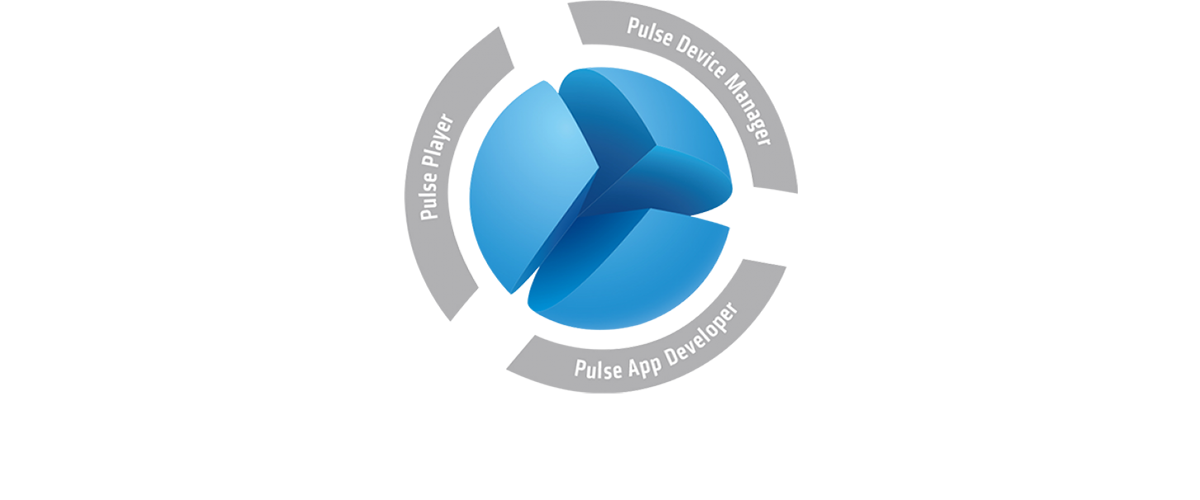 What is PULSE?
PULSE Technology is at the core of the products we manufacture. It is the culmination of years of research and experience in creating interactive digital displays that are specifically suited for commercial environments. We have taken all of the knowledge we have attained and consolidated it onto one platform combining hardware and software. PULSE Technology is designed to be synonymous with durable, user-friendly and highly compatible with a wide range of 3rd party CMS, MDM, content creation and remote management solutions.
PULSE Player
Tablet Administrator that enables: • Auto Power/Play/Detect/Copy • Password Protection • CMS / MDM Friendly
PULSE Device Manager
Device Management that runs: • Health Check/Monitoring • Remote Content Management • Data Capture & Analytics
PULSE App Developer
Predefined/Custom Content: • Web browsers to display web pages • Hosted files/documents to loyalty programs • Newsletter sign ups • Conference room scheduling • Sales promotion/shopper surveys • Product Catalogs and Price Check
Marketing Benefit
create a consistent, branded, controlled and unified user experience across thousands of customer facing devices from a single dashboard remotely manages all device and app settings – ensuring campaign execution & deployment measures customer interactions to see what works while staying relevant to your customer (analytics are self-generated & supported)
Store Operations/IT
Monitoring service: reports activity/incidents of specific devices ensures that the devices are powered up guarantees the apps are deployed and running.
PULSE Ecosystem
With Pulse technology and iDISPLAY products, retailers and brands create opportunities for consumers such as endless aisle experiences, in-store product customization, inventory checks, promotions and access to account information. iDISPLAY and Pulse create a more personalized consumer experience and greater brand engagement that ultimately increase in-store activations.