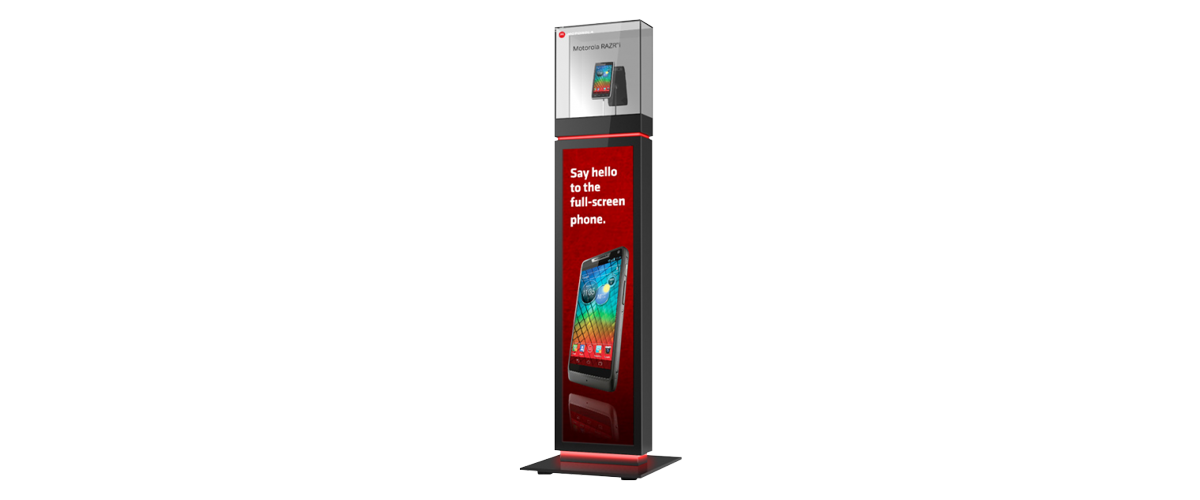 An all-in-one floor display with an ultra-bright LCD screen.
The iDISPLAY™ Tower is a visually stunning and unique all-in-one floor display that will highlight your product and demand attention with its dazzling ultra-bright LCD screen. The iDISPLAY™ Tower is an attractive, customizable freestanding display designed to bring your product to life through exposition and digital media. The perfect solution to maximize the effectiveness of your retail merchandising
Defining "WOW".
iDISPLAY Tower has a unique size LCD screen with narrow proportions that elevate the content up to eye-level. Create life-sized imagery to attract and engage your customers on the 38" ultra-bright screen.
Small Footprint, Huge Impact.
iDISPLAY Tower has a compact and space-saving base stand so you can place it anywhere within your floor plan. No need for an extra stand or pedestal, the device is fully functional as a stand-alone piece that won't topple over or be easily moved.
Replaceable Showcase Cover.
iDISPLAY Tower beautifully displays your product showpiece atop an acrylic display box that sits at eye-level. Your product instantly becomes the Hero amid all other products. You can re-use the iDISPLAY Tower for multiple product launches and promotions by simply lifting the ShowCase Cover and replacing your item and background message.
LED Color Options.
The iDISPLAY Tower glows along the bottom and top edges to create a beautifully lit display with customizable color options. Through integrated software, select the color that best suits your needs and step away to let the LED's do their work.
Open Android OS.
DISPLAY Tower is powered by Android OS and can play a multitude of applications to reinforce marketing messages and promotions.
Powered by Pulse.
Integrated hardware and software that is optimized for commercial use. With features such as Auto-Power, Auto-Play, Password Protection, data tracking, analytics, and compatible with a range of Content Creation and Remote Access solutions, Pulse Technology allows iDISPLAY Tower to meet all your commercial requirement.
High Brightness.
iDISPLAY Tower has an ultra-bright LCD screen that can counter the effects of bright lights inside commercial environments, or even in direct sunlight. No need to worry about bright lights hindering the screen and creating washed out images, the iDISPLAY tower will not disappoint.
Auto Process.
The Auto Detect feature enables the iDISPLAY Tablet 21.5" to automatically detect any new piece of content uploaded via a USB device. The Auto Copy feature then automatically copies the content to the default folder and finally, the Auto-Play feature enables automatic play of content, once the tablet is on.
Always Connected.
iDISPLAY Tower is equipped with embedded Wi-Fi and optional 3G or 4G LTE functionality (where 4G connection is available). This enables remote content on multiple devices. In addition, it has the capability of connecting to a LAN/Ethernet connection.