DISPLAY OF THE YEAR
The Outform Group was a two-time winner of the prestigious Display of the Year award at the Shop 2022 Outstanding Merchandising Awards for Ray Ban Stories In-Store Display and Bud Light Cooler Spectacular.
A single company winning Display of the Year in both categories is a remarkable achievement, which was made possible by the incredible collaboration with our clients and the hard passion and dedication of all our team members.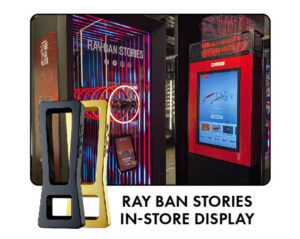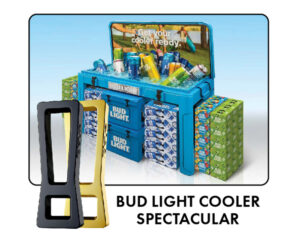 Ray Ban Stories In-Store Display
and Bud Light Cooler Spectacular were also both awarded Gold in the respective categories of Permanent and Temporary.
ADDITIONAL AWARDS
The Outform Group also snagged up an additional 6 trophies during the ceremony, including 1 Gold for the Intel Experience Zone, 2 Silver for the Facebook Portal and Jaclyn Hill Endcap, and 3 Bronze for The Ordinary Medicine Cabinet, Bud Light Seltzer Out of Office Spectacular, and Playstation Shop-in-Shop.